01 Aug
BlogHer Recap?

Who needs words when you have an image like this?
After a weekend spent surrounded by women like a Superhero (left) and Marathon Mom (right) I'm not sure words could possibly do it justice. Besides how can I formulate any thoughts when my head is still spinning? And even if it weren't, my brain went to mush right about the time we started taking shots for Rachel's 30th birthday (That's the birthday girl on the right. Bottoms up)!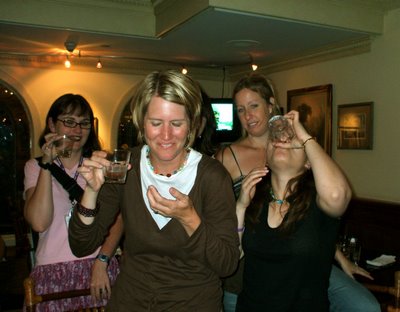 Oh boy. Do I need to say I had the time of my life?? It was indeed a weekend I'll never forget. More details and pictures to come, I promise, so stay tuned.
Incriminating photo taken by the lovely Mommy Needs a Cocktail. What could be more perfect? Oh, and the one of Charlie's Angels? That was by Grace's husband. Thanks guys.