06 Dec

Girls Night…In
I just discovered the best of 09 challenge for December hosted by the delightful Gwen Bell. I'm so excited!
Perhaps I state the obvious when I say I love reflection. If you have ever read this blog then you know it's what I do. In this case, Gwen encourages us to specifically look back on the past year and share thoughts and pictures prompted by a unique question for each day in December. Fantastic!
Today question Gwen asked about details of memorable night out. The timing couldn't be more perfect for this since last night was one of the best nights I have spent the whole year. Mind you, it was a night in (not out) but it was a night of pure magic.
I'll paint the picture: Friday night. Fire lit. Warm Chocolate chip cookies fresh from the oven (thanks to my 12-yo). Tapestries covering the floor. Comfortable clothes. Magazine clippings, photographs, blocks of wood and paint, paint, paint.
We had the best time. Ever. And we have lovely little pieces of art that I adore.
If there is anything that I learned from such a simple and relaxed evening together with my girls is that in 2010 I want to do more of it. My wish as a mother is that when my daughters look back on their youth, that they remember spending nights like this with me. With all the work I do, and how distracted I can get, I know that it's going to take much more of an effort on my part to make it happen. But, now I feel like I have a perfect model to work from. It's something I really look forward to.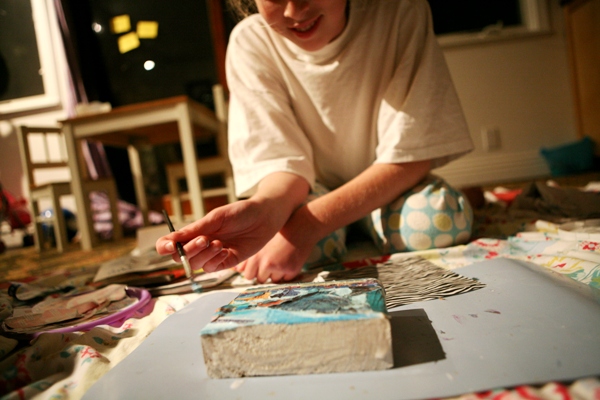 Feel free to join in the #best09 fun over at Gwen's. The more the merrier.