29 Nov

I am Enough from Jenn Gibson
In January 2003 I was diagnosed with "a thyroid problem" – which, don't get me wrong, was such a huge relief. The months before I was diagnosed were really hard. I was finishing up my last semester at college – taking seven classes and working three jobs. I was exhausted, losing weight so quickly, weak, dizzy. I put it off on working too hard or being overcommitted and overextended – all of those sorts of things. And it's true, I was, but this time at least one had nothing to do with the other.
Things got to the point where I couldn't walk up a flight of stairs, I would sleep for hours and wake up still weak and tired. It terrified me. On more than one  occasion, one of my roommates had to physically get me up the stairs and when she got me to my bed, I laid there and cried. I was terrified. I didn't know what was wrong, I thought I must be sick and dying.
There was something wrong with my body and I didn't know what to do.
So, I went to a logical place – my nurse practitioner. I had a physical and she told me that my thyroid was not working. She put me on medication, and over the next several years a pattern emerged.
I go to see a doctor every few months and get bloodwork done. Sometimes my levels are good, and I don't have to go back for three or four months. Sometimes they aren't, my doctor would switch up (or lower,  depending on what was going on) the level of meds and I'd have to go back in two weeks or a month or six weeks.
It all felt like such a guessing game because there was no rhyme or reason as to why things were ok sometimes and so horribly off others. Nobody could give me an explanation as to what was wrong, why things were inconsistent, how I could fix things, what I should do.
//
Towards the end of 2010 I decided to start seeing a specialist, an endocrinologist: someone who worked with people who had thyroid problems. I thought now, maybe now, something would change, I could get some answers, make some headway into what was wrong, and finally start to figure out how to make things right or better or "ok."
I had some bloodwork done the day I met with my first doctor, when I sat and talked with him, he vaguely listened to my medical history and then told me that I had Hashimoto's disease, that my thyroid did not work, that it was broken, and that I would be on medication for the rest of my life.
I sat there and when I got to my car, I sat there and cried.
Broken, my body was broken.
//
See, I knew something wasn't right, I'd been on medication for years, seen   doctors every few months to see what was going on in my body. Medication was changed, dosage levels were increased and decreased. I knew something was wrong, but to have this doctor, this specialist, tell me that it was broken, that it could not be fixed or healed, only managed, broke my heart.
Even though I knew deep down that something was wrong, he confirmed it, and the hope that one day things would magically be ok was gone.
It also gave me this gorgeous feeling of beginning.
Now I can begin to heal, now I can start working to make things better, now I can be gentle with myself and love all over myself, now I know what's going on.
Now I have the answer.
What I didn't realize until the diagnosis is that so many of the other things that were going on in my body were related to my thyroid problem, if I could improve one, the others would ease up, too.
Examples: That anxiety I've lived with since I was a kid? Directly related to how well my thyroid is functioning.
My energy level? Directly related to how well my thyroid is working.
Lack of ability to focus and concentrate? Ding, ding, ding! Related to my thyroid.
So, where does the enoughness come in? Right here. Right now.
I am enough.
With an auto-immune disease. When I feel so tired I can't think. When my brain is foggy and blurry. When I slur my words. When my mind can't keep up with a conversation.
I am enough.
My body is not less, my body is exactly as it should be, and all of these lessons I'm learning and have learned would not have happened if things were different.
When things are hard, I get really quiet and whisper to whatever it is that's feels off:
Dear body, I love you.
Dear thyroid, I love you.
Anxiety, I love you, thank you for being a teacher.
Foggy brain, I love you and I will move slower until you are able to catch up.
I love you.
You are enough.
………..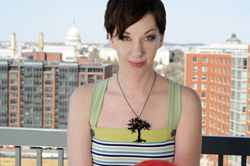 Jenn Gibson is a writer, life coach and the creator of Roots of She — a collection of true stories & tender wisdom for women, by women.
As a coach, she focuses on foundational self-care, helping overwhelmed women learn to live simply, and simply live.
She loves yoga, Mexican food and the beach, and is not above stealing snuggles from Bean the Boy Kitten.
Connect: Website: Roots of She | Facebook | Twitter : @rootsofshe