27 May

Rockin' It With the Rookies

A few years back (has it really been that long?) I met the fabulous ladies affectionately called the Rookie Moms. Not only are they wonderful people, but they are behind a great site that offers the most clever and quip ideas for new moms ever compiled into one delightful website and corresponding blog. It's no surprise that somebody snapped up the idea for a book.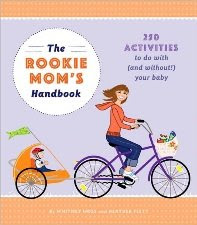 Enter the totally adorable, very helpful and ever entertaining book for new moms,
The Rookie Moms Handbook
!
I have read through many of the ingenious (and humorous) activities offered on the Rookie Moms site but when I sat down with the book, I was delighted once again by these rich little mommy gems. My favorites being some of the photo projects they suggest, of course.
Take activity #236 which suggests documenting your child's latest obsession via photos or video. You know, like eating oatmeal every single night before bed. Or is that just my kid?

Or #227 which encourages you to remember photographing babies objects of affection. Since I've got one bunny lover and one blankie baby, this one is near and dear to my heart. The Rookie Moms even go as far as to offer effective ways to tackle the photo challenge depending on your personality type; the sentimental or the artsy mom, the absurdist or the bad girl. Funny stuff! I am sooooo going to do some of these (and I am far from a Rookie Mom anymore).
The Rookie Mom Handbook is the perfect book for any new mom (hello baby shower gift). It's a quick read with fantastic and funny activities to make the early years of motherhood meaningful and that much more enjoyable. And it's written by two cool moms who have been there before and are doing it all over again.
Way to go Rookie Moms! You rock. All the cool moms think so.