18 Sep

The Back to School Story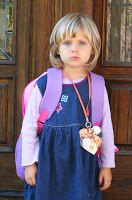 My preschooler.
From sad to sassy in 1 second flat.
Yes, that's the traditional comfort necklace I make for my children each year. Last year's model can be seen in the first day photo from last year. It's one easy way to send a little tangible love with them to school. Plus, I'm a crafty girl that actually really enjoys making stuff like that.