02 Feb

The Ultimate Compliment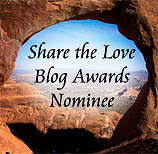 nominee banner
Originally uploaded by mmeclark.
Wow.
My little ol' blog Mother May I was nominated by someone whom I greatly admire for "The Happiest Blog" at the Share the Love Blog Awards hosted by One Woman's World.
I am in the company of some incredible bloggers over there so I'm all a flutter with just seeing my blog listed with theirs. Sigh.
Go check it out and vote for your favs. I did.