04 Apr

When Mothers Talk

The Mother Talk Salon I hosted the other night was beyond fabulous, just as I had known it would be. I'm not sure you can go wrong when you bring a group of vibrant women together (namely mothers) and throw in some good eats (appetizers and such a la myself and my daughter the sous chef) and drinks (as in alcoholic) and a cozy living room (aaah, I love when my living room is full of friends). I mean, seriously, it was like a little bit of heaven.

I remember the first email I sent Miriam and Andi (the amazing women behind Mother Talk) as a desperate plea to get a Salon planned in LA. Little did I know that I would be lucky enough to have not only host one in my own home, but to have not one, but two incredible authors to lead the evening of compelling conversation. Everyone that was here truly enjoyed themselves. I know it to be true because since the event on Saturday night, I have been fielding phone calls and emails from grateful moms who keep reiterating heartfelt sentiments about how stimulating it was to get together and talk about the Universal State of Motherhood…good, bad, and otherwise.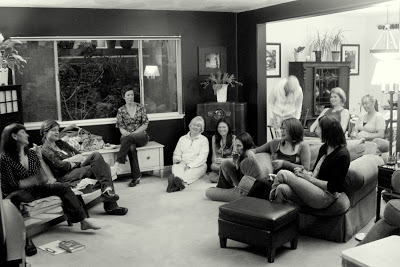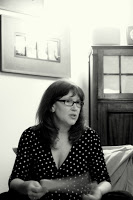 The evening began with snacking (thank you Isabel at
Alpha Mom
for being kind enough to sponsor the event for us) and casual introductions that led to us gathering around as
Brett Paesel
began to read a piece called from the delightfully witty
Mommies Who Drink
during which on more than one occasion, had the whole room laughing out loud. When Brett was through, and before she could even answer the questions we were all dying to know like, what led her to write the book, how did she get the deal, and what was her life like before children (you know the important stuff), the whole room was engaging in conversation which I think could have gone on for days.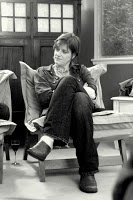 But, alas, it was time for
Erika Schickel
to share something from her refreshingly poignant and clever book
You're Not the Boss
of Me
. Although apparently she had planned on reading a different piece, the dynamic of the group led her to recite the last story of the book called Sisters. A tapestry of words, rich in
color and texture that brilliantly stitched together her daily observations of her own daughters with reflections of her own upbringing and memories of life with her sisters. For those of you who know me, my daughters and my whole family of women, you can imagine how much a story like hers hit home. Waaah. This then began round two of mom talk and as our thoughts swirled and we spoke our minds the time passed far too quickly. It was a perfect evening.
Would I host another Mother Talk Salon? You bet I would. And something tells me it's just a matter of time.